Call Of Duty: Modern Warfare 2 Remastered Campaign Released
Posted Apr 04, 2020 by DarthHazard
---
In unsurprising news, the remastered version of Call of Duty: Modern Warfare 2's campaign has been released. The campaign was initially leaked a few days before the official launch with many players able to feast their eyes upon a trailer for the release.
The campaign will initially be released for PlayStation 4 and is currently available to purchase and play on the platform. Players on other platforms are able to pre-purchase it right now, although will not be able to play it for a while.
The game, which has been remastered by Beenox, will deliver the campaign with "stunning high-definition visuals and the latest audio advancements".
"From basic training in S.S.D.D. to the thrilling climax of Endgame, the fate of the world is in your hands as you join Task Force 141 alongside Captain John Price, Gary "Roach" Sanderson, and of course, Simon "Ghost" Riley. Be prepared to fight the enemy on all fronts, even if it means going undercover, to stop this ultranationalist threat from taking over the world."
And as a further reward, purchasing the campaign on any platform will gift you with the Underwater Demo Team Classic Ghost Bundle which will be available to use in both Call of Duty: Modern Warfare and Call of Duty: Warzone.
The bundle will give you access to the UDT Ghost Operator skin (famously seen in "The Only Easy Day…Was Yesterday" mission), "Task Force" weapon blueprint, "One For One" weapon blueprint, a weapon charm, a finishing move, a calling card, an emblem, voice clip for Ghost and two Battle Pass tier skips.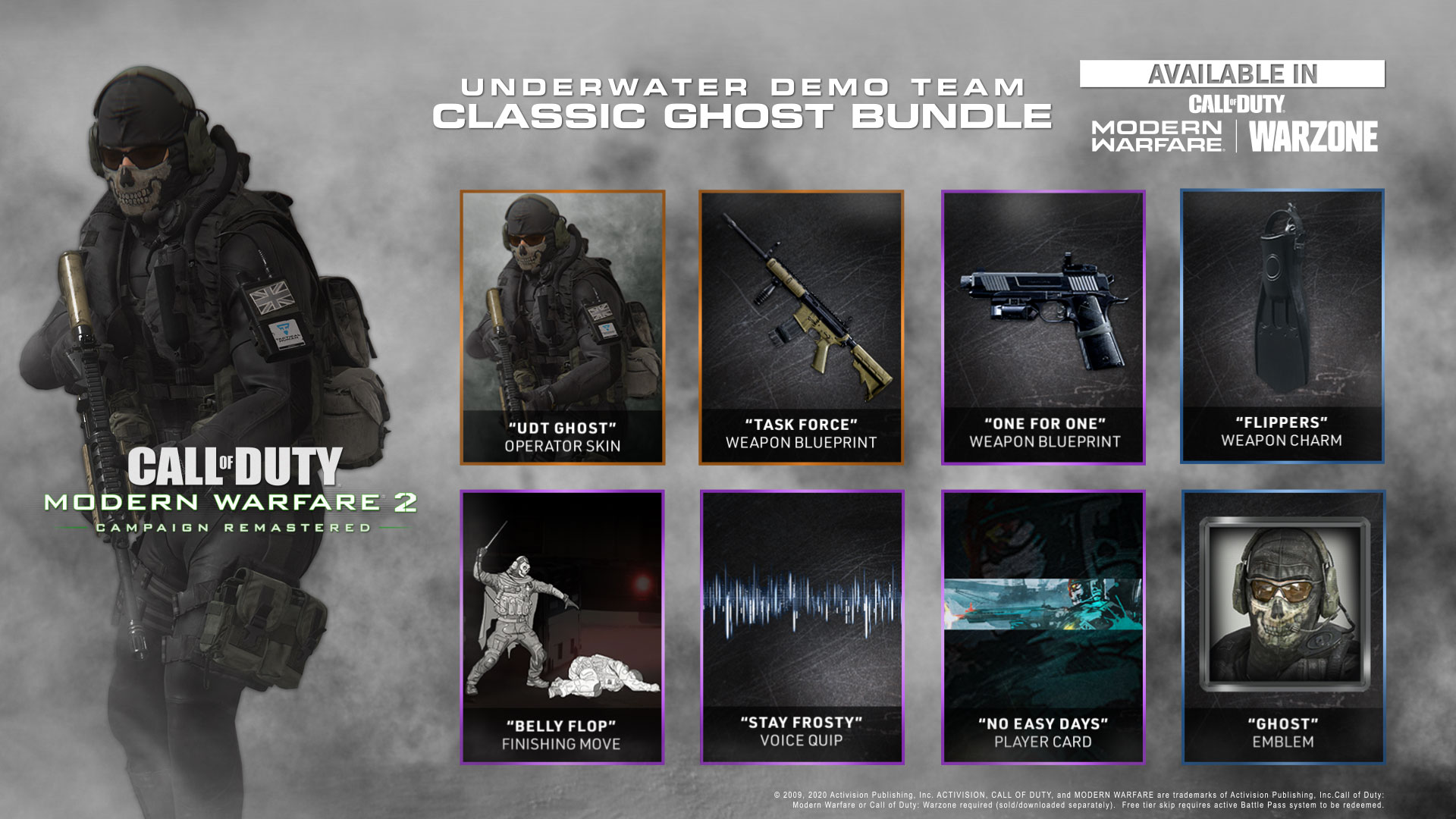 Players that pre-purchase the campaign on PC or Xbox One will still be able to get immediate access to the Bundle.
Unfortunately for fans, the purchase does not include a remastered version of the Multiplayer or Spec Ops experiences that were available with Call of Duty: Modern Warfare 2.
Are you excited to play the campaign of MW2 again? Or will you be sticking to Modern Warfare and Warzone? Leave your thoughts in the comments below.
---
Founder & developer of this dope gaming platform. 20 year old gamer who loves to waste time chasing noobs on Fortnite, riding with my posse on Red Dead Redemption 2 and travelling across the coast on Crew 2