Earn COD Endowment Rewards With Twitch
Posted Nov 11, 2019 by DarthHazard
---
You may remember being able to earn some in-game drops for Call of Duty: Modern Warfare by simply watching streamers on Twitch. The special promotion has now returned to Twitch in honor of Veterans Day in the United States.
Players from all over the player can watch streamers playing Call of Duty: Modern Warfare to earn a range of in-game rewards. The promotion is in partnership with Call of Duty Endowment, which is an organization that helps veterans in the United States to find high-quality careers by providing support to groups that help them.
A number of popular streamers including Myth, dakotaz, and RealKraftyy are currently streaming the game with drops enabled on their streams so head on over to their channels and start watching.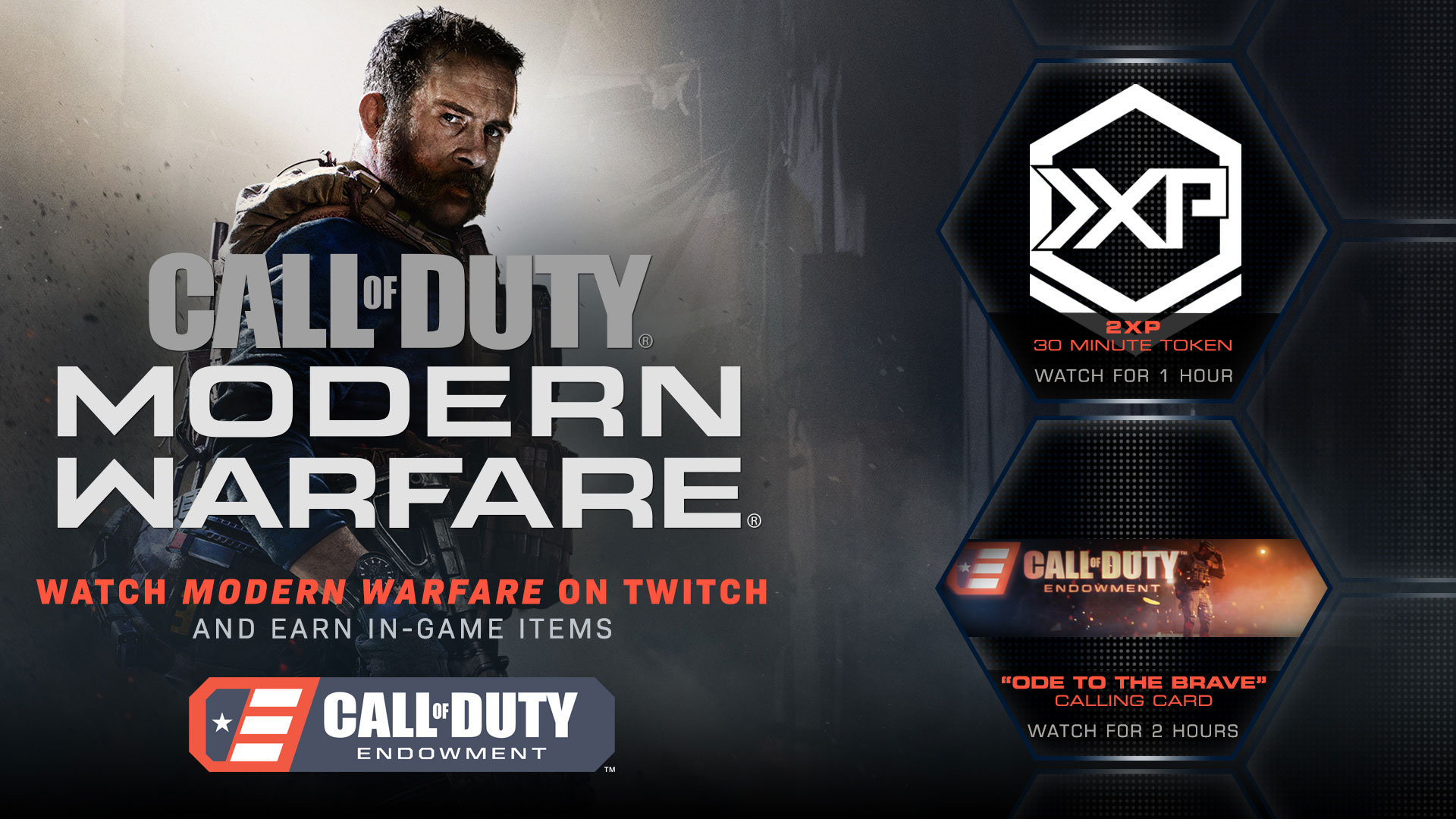 The rewards for this promotion include a 30 minute 2XP token for simply watching a stream for 1 hour. You will also be able to unlock a special animated "Ode to the Brave" calling card for simply watching 2 hours worth of Call of Duty: Modern Warfare streams. Once you have earned them (you'll know as you will receive a notification on Twitch), you will be able to find the items in your inventory the next time you log in to the game.
There also seems to be a slight bug with the Twitch Drops system right now which is allowing players to earn multiplayer instances of each reward. Whilst not useful for the calling card, it does allow players to earn a large number of 2XP tokens which is very useful! So rush on over to Twitch and get those XP tokens.
This offer is also only available today as it is in honor of Veterans Day so you only have a limited time to take advantage of this. If you haven't connected your Call of Duty account to your Twitch account yet, make sure to do so before watching the streams. You can learn how to do this by reading one of our previous articles on Call of Duty in-game drops.
Will you be watching steams to earn these in-game drops? And what are your thoughts on Call of Duty Endowment? Leave your thoughts in the comments below.
---
Founder & developer of this dope gaming platform. 20 year old gamer who loves to waste time chasing noobs on Fortnite, riding with my posse on Red Dead Redemption 2 and travelling across the coast on Crew 2