Borderland 3 Will Have Improved Social & Multiplayer Features
Posted Jul 08, 2019 by DarthHazard
---
Borderlands 3 isn't too far off with a launch date in September and we're slowly finding out much more about what will be included in the game.
A whole host of brand new features will be added to the upcoming game in the franchise which will look at improving the social and multiplayer experience for gamers including asynchronous matchmaking and Twitch integration.
The first feature is something that a lot of gamers will have become accustomed to having experienced it in other games such as Apex Legends and Fortnite Battle Royale. A ping system, similar to the system incorporated in Apex Legends, will be added that will help players to communicate and alert other members without having to physically move your lips. This addition should be great for those that prefer to go solo in multiplayer.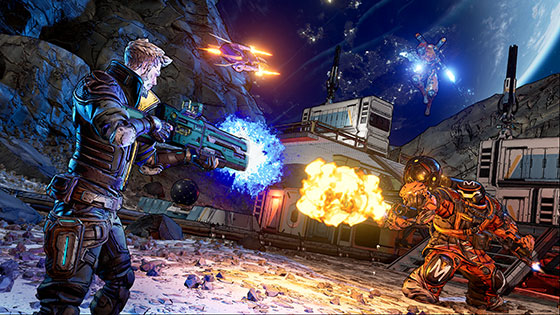 Players would simply need to aim over an enemy and then "ping" them by pressing a button to alert your teammates of their presence. Loot and objectives will also be able to be pinged.
The Twitch integration with the game will mean a new and improved experienced when watching your favourite streamers. Viewers will be able to examine a streamer's loadout and skills and will have a chance of winning the same loot that the streamer finds in chests. Twitch Bits will also play their part in the game, allowing viewers to buy in-game cocktails for their favourite streamers and being able to vote on the buffs and debuffs of the cocktails.
A few other changes have been made to improve the game's accessibility. The Xbox Adaptive Controller is now compatible with the game alongside players being able to re-map controls. Additionally, a number of subtitles and closed captioning options have been added to the game.
If you're looking forward to playing with friends, the ability to level sync has also been introduced which will allow you to play with your friends no matter what level you or they are on.
Matchmaking has also gone through a few changes and improvements. With Borderlands 3, you will now be able to search for a new match in the background whilst playing the game. Moreover, match preferences have become a lot more specific which will now mean you can choose to either play with players that are at the same point in the story as you or play in any mode you want to.
These small but important changes will surely make fans excited to play the next game in the Borderlands franchise. The game is set to be released on the 13th of September 2019 and will be available on PC, PlayStation 4 and Xbox One.
Are you looking forward to playing Borderlands 3? And what new feature are you looking forward to trying out?
---
Founder & developer of this dope gaming platform. 20 year old gamer who loves to waste time chasing noobs on Fortnite, riding with my posse on Red Dead Redemption 2 and travelling across the coast on Crew 2