Van Dijk Gets 99-Rated Card In FIFA 20 TOTY
Posted Jan 08, 2020 by DarthHazard
---
Virgil Van Dijk has become the first-ever 99-rated team of the year defender with this year's team selection.
And if that wasn't outstanding enough, his card joins three other Liverpool FC cards who have also been chosen as the team of the year defenders.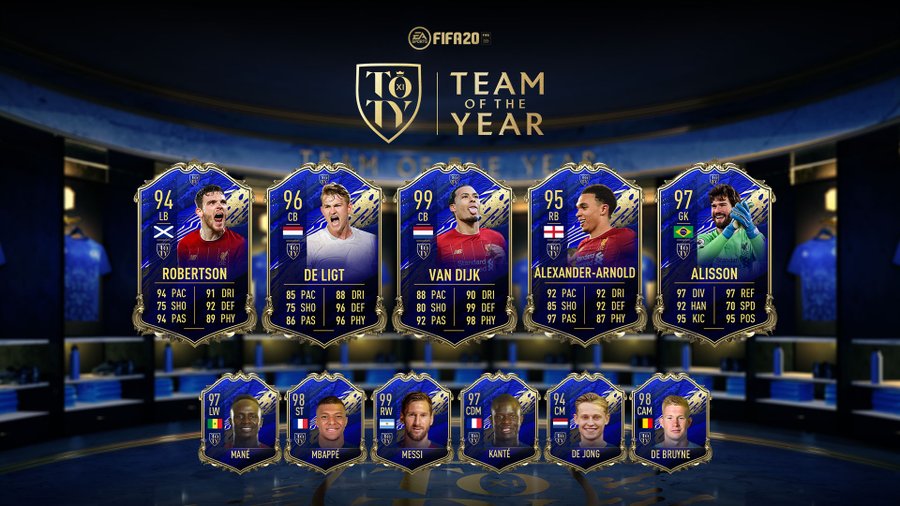 Van Dijk joins teammates Robertson, Alexander-Arnold and Alisson. The only non-Liverpool FC footballer to be chosen as a TOTY defender is De Ligt.
If you haven't been keeping up with Liverpool recently, Van Dijk has had an amazing year for the club including lifting the UEFA Champions League with Liverpool and picking up a whole host of awards for his performances.
His card will feature an out of this world 99 defence alongside 98 physical and 88 pace making him an ideal candidate for you – if you can afford him or have the luck to pack him of course.
The reveal means that the TOTY midfielders are now out of packs. The midfielders which featured Kante, De Jong and De Bruyne will still be available from the transfer market. Also available in the transfer market will be the TOTY attackers which included Mane, Mbappe and 99-rated Messi.
Are you looking forward to opening some packs hoping to pack 99-rated Van Dijk? Or will you be sticking with your gold defenders? Leave your thoughts in the comments below.
---
Founder & developer of this dope gaming platform. 20 year old gamer who loves to waste time chasing noobs on Fortnite, riding with my posse on Red Dead Redemption 2 and travelling across the coast on Crew 2