Twitch Rewards Return For Modern Warfare & Warzone
Posted Jul 12, 2020 by DarthHazard
---
It's been a while now since Twitch Rewards were made available for the two current Call of Duty titles but it has now returned with three in-game rewards available to earn.
Modern Warfare and Warzone players can watch Call of Duty gameplay on Twitch until the 16th of July (at 10 AM PT) to earn the three in-game rewards which include: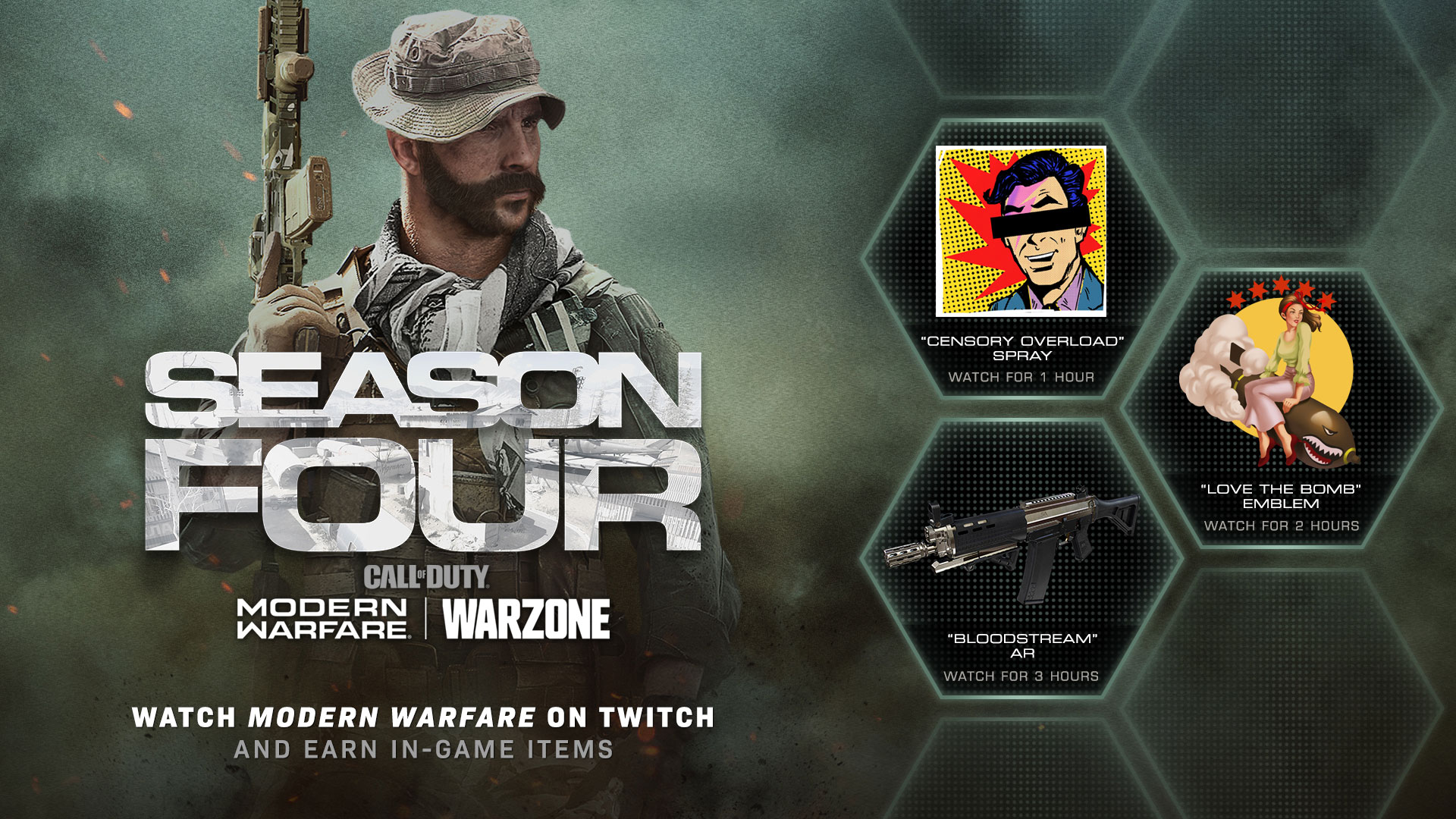 'Censory Overload' Spray for watching 1 hour of COD streams
'Love the Bomb' Emblem for watching 2 hours of COD streams
'Bloodstream' Assault Rifle Weapon Blueprint for watching 3 hours of COD streams
The 'Bloodstream' AR is a "well-controlled and accurate configuration of Assault Rifle Juilet". The weapon will be perfect for any mid-range engagements for both Multiplayer and Warzone. You will be able to reload quickly with the Sleight of Hand weapon perk and shoot easily from the hip with the included Tac Laser.
Even if you have previously watched Twitch streams for the rewards, you will need to re-link your Twitch account and your Call of Duty account. This will ensure that you have the right permissions and therefore earn the rewards.
When finding a stream to watch, make sure that the message "Drops are enabled" is displayed just below the stream. This will ensure that you are watching the correct stream and will gain the rewards after watching for a while.
Will you be watching Call of Duty streams to earn the rewards? Which reward is your favourite? Leave your thoughts in the comments below.
---
Founder & developer of this dope gaming platform. 20 year old gamer who loves to waste time chasing noobs on Fortnite, riding with my posse on Red Dead Redemption 2 and travelling across the coast on Crew 2