Free Treasure Map Include With Latest RDR2 Patch
Posted Mar 03, 2020 by DarthHazard
---
The latest patch from Rockstar Games is here for Red Dead Redemption 2 and with it arrives some great bonuses for players.
The first bonus is the ability to earn a free treasure map. And to get your hands on the treasure map, simply complete five daily challenges this week and pick it up from your Camp Lockbox or Post Office within 48 hours.
If you're a Moonshiner, you will be able to take advantage of a 50% Role XP Boost on all Moonshiner Sell, Story and Bootlegger Missions. To start these missions, make sure to visit Maggie and Marcel in their Moonshine Shack.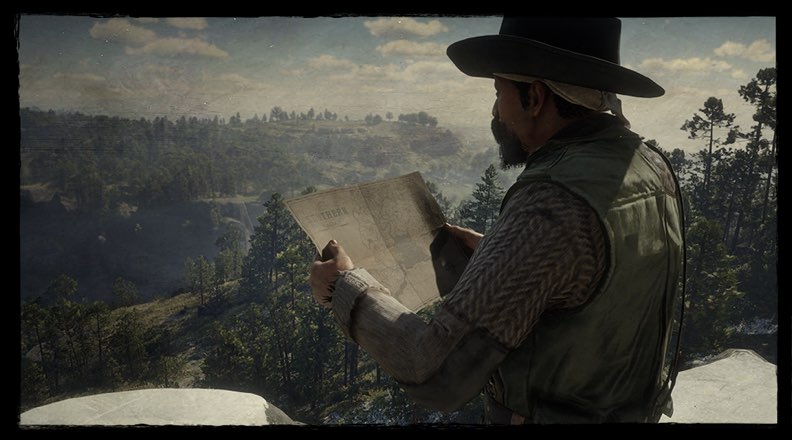 Players still have time to get started on the Outlaw Pass which is now in its second instalment. Players will get 10 Ranks' worth of Club XP right from the start. You still have until the 10th of March to finish off the Outlaw Pass.
As with every update from Rockstar, there are a whole host of discounts that can help you save some money. Firstly, the cost of Arabian horses at stables have been reduced by 25%. If you're looking to upgrade your outfit, there is a 30% discount available for all vests and bandoliers. And if you still need to get your hands on the Hunting Bow or Fishing Rod, both are 40% off. These discounts will be available until the 9th of March.
PlayStation Plus members get extra benefits which this time is the ability to choose 3 Ability Cards for free. You will have until the 1st of June to pick your preferred cards.
And if you're a Twitch Prime member, you can get the following if you connect your social club account with Twitch – the Collector's Bag, the Polished Copper Moonshine Still and benefits award for five ranks of Moonshiner Role XP.
Are you excited for your free treasure map? And have you completed the Outlaw Pass? Leave your thoughts in the comments below.
---
Founder & developer of this dope gaming platform. 20 year old gamer who loves to waste time chasing noobs on Fortnite, riding with my posse on Red Dead Redemption 2 and travelling across the coast on Crew 2