COD Twitch Rewards Are Back For Warzone
Posted Mar 14, 2020 by DarthHazard
---
Call of Duty: Warzone has finally arrived after months of rumours and now players can earn some exclusive Twitch rewards to celebrate the launch.
And because Call of Duty: Warzone is free to play for everyone, the rewards from Twitch will be open and accessible for everyone.
Similar to previous Call of Duty Twitch rewards, all you have to do is to make sure to watch Warzone in the Call of Duty: Modern Warfare category on Twitch. This kickstarted from the 11th of March and players will have time until the 18th of March at 10 AM PT to get all the rewards. Once you've received your rewards, simply equip them in-game and then drop onto the map in Warzone.
Click here to learn more about connecting your COD account to Twitch if you haven't done so before.
If you've done everything correctly, when you visit a Warzone stream on Twitch, you should see the message "drops are enabled" just below the stream. From then on, simply watch the stream or go do something else whilst its running in the background. Sit back and watch as the Twitch notification system notifies you that you've received each reward.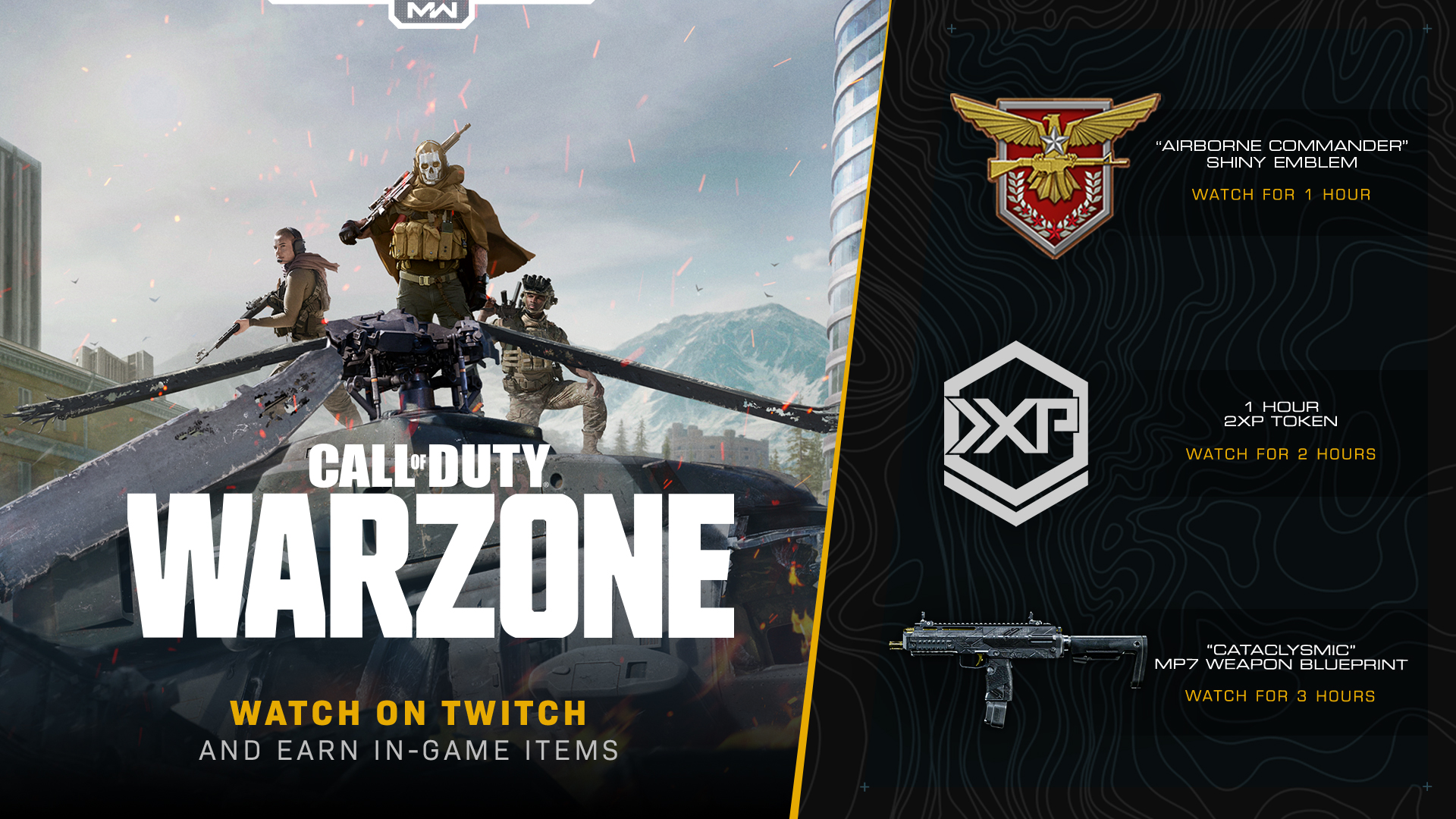 The rewards this time around include:
Airborne Commander Shiny Emblem for 1 hour of stream watching
1 Hour Double XP Token for 2 hours of stream watching
Cataclysmic Weapon Blueprint for 3 hours of stream watching
"The Cataclysmic is a fast-firing SMG with mobility that makes it fit for taking on Scavenger Contracts and any agile firefight in close quarters. Add it to your loadout, then test it out in a match to see how it stacks up against the competition."
Are you excited to earn some special Call of Duty Twitch rewards? And which streamer will you be watching to earn your rewards? Leave your thoughts in the comments below.
---
Founder & developer of this dope gaming platform. 20 year old gamer who loves to waste time chasing noobs on Fortnite, riding with my posse on Red Dead Redemption 2 and travelling across the coast on Crew 2